At the same time, do not forget about another essential type of device – night vision scopes. They are the reason why we wrote this text. This is still the same monocular, but with one significant difference – it can withstand the most powerful recoil of the weapon.
It is small, can be used as a monocular, and has a unique reticle. Being inherently the same high-tech and fragile device, the scope is reinforced so much that you can safely go hunting with it. In general, if you cannot imagine your life without raids into the forest, then this option is for you.
But, here, a completely different problem arises: how to choose the best night vision scopes? The market is so saturated with various offers that even if you are well versed in the topic, you will still get confused. And it is significantly correlated with beginners. And if, in addition, we consider that the technology is expensive due to the complexity of production, then the rates increase significantly. Therefore, today we will make your life a little easier by offering you our tier of the best night vision scopes.
1

Trifecta 3.0×50 CORE +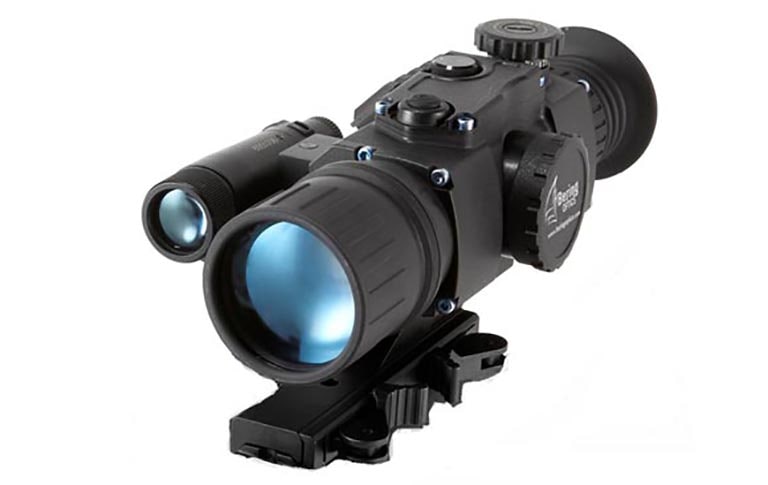 Night vision technology has come a long way of development, which is usually defined by a generation, of which there are already four. Valid, the fourth generation is just beginning to conquer the market and, often, its cost is very high. At the same time, the first generation is considered by some to be irrelevant and too backward for modern challenges. Trifecta demonstrates a misconception by offering this inexpensive, high-quality product.
In many ways, Trifecta 3.0×50 CORE breaks down the stereotypes of first-generation appliances. It has a high resolution, has no aquarium effect, and has glass-replaced ceramic in tubes. The Mil-dot ballistic reticle and 50-60 lp / mm resolution turn the device into an ergonomic and practical item that is indispensable for a hunter, especially if you are hunting small animals.
Among the shortcomings, it can be noted, perhaps, the battery, which holds a charge for no more than ten hours and 300 yards of object detection range, which, however, is not so bad for a device in this price range. Yes, we forgot to mention that the cost of this scope is another decisive advantage.
2

Wolf Performance Optics WPA PN22K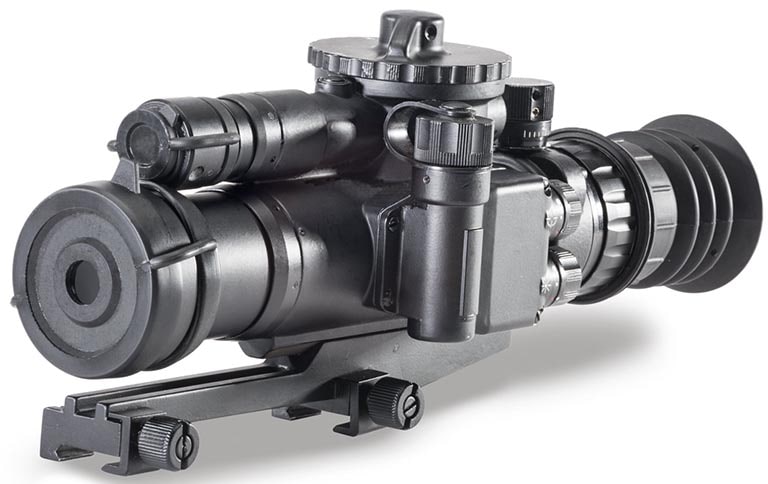 Let's be honest. If we were to compose the rating of the best night vision scopes based solely on our preferences, it would consist of models from ATN and AGM. But, there are many other exciting scopes on the market.
What can the people who gave us Chernobyl and communism offer us? For example, this Russian monster WPA PN22K. For example, a device with Gen 3 and Gen 2+ tubes, with night and day modes and good recoil resistance.
It gives good picture quality and a range of up to 350 yards in the Gen 2 Plus package. Plus, this scope is heavy, so if it breaks, you can throw it at the animal.
3

Bering Optics D-790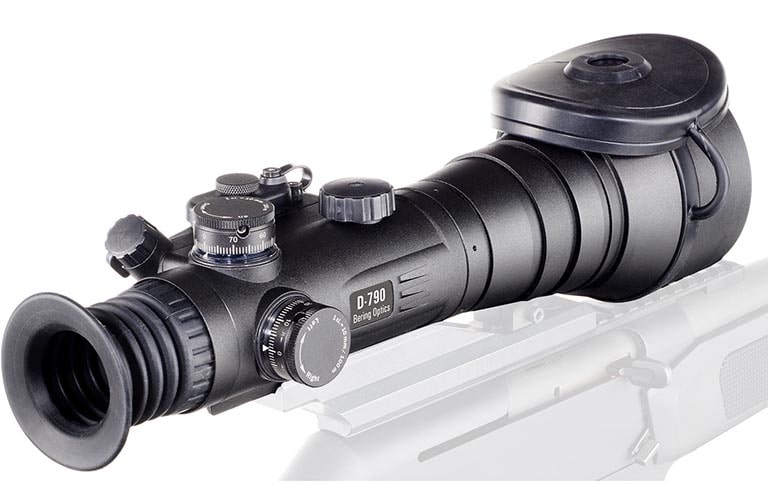 The Bering Optics D-790 is a prime example of how high weight does not mean a scope is terrible. This is an excellent Gen 3+ device. One of its features is the MOA / MIL weapon reticle system with several thousand points.
White phosphor and a decent range of 600-900 yards give the maximum opportunity for comfortable hunting. But, and that's not all. The D-790 is entirely waterproof and has an excellent battery that provides a long run time. Combined with a reasonable price point, this scope can be your long-term solution for choosing the best NV scope.
4

ATN NVM14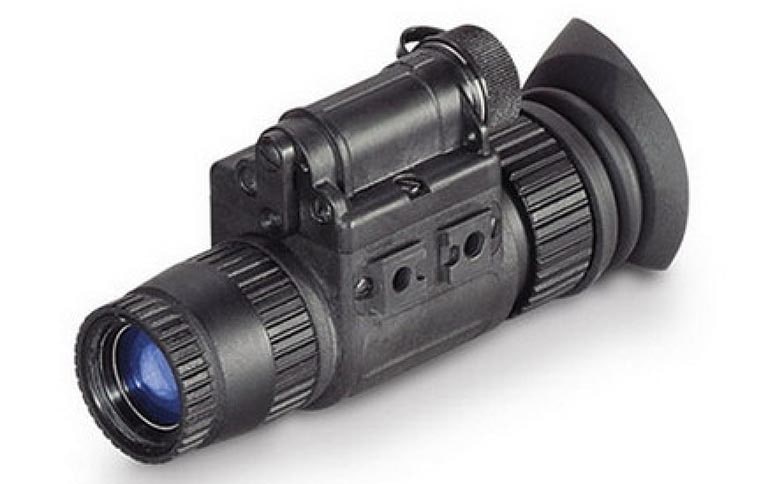 For you to have a complete picture of all the devices that the market offers, we will bring to your attention a combined device from one of the best NV manufacturers. The proposed device combines the capabilities of a gun sight and a conventional monocular.
ATN NVM14 is lightweight, compact, and ergonomic. It has sufficient tensile strength to withstand gun recoil up to .308 caliber as a fourth-generation device. We think this durability is a bit overrated. Still, there is no doubt that innovative tube solutions will allow you to shoot using the NVM14 as a scope, albeit within reasonable limits.
Given the combined nature of the monocular, one should not expect surprising results from it. Its range of up to 100 yards, low magnification, and a modest 40-degree field of view make it a moderate choice as a short-range rifle scope, but no more.
The price of this device is relatively high. Although it is ideal for entering the world of night optics, there will be a high price to pay. On the other hand, what could be better and more reliable than a product from a trusted manufacturer.
5

AGM Wolverine Pro-6 3AW1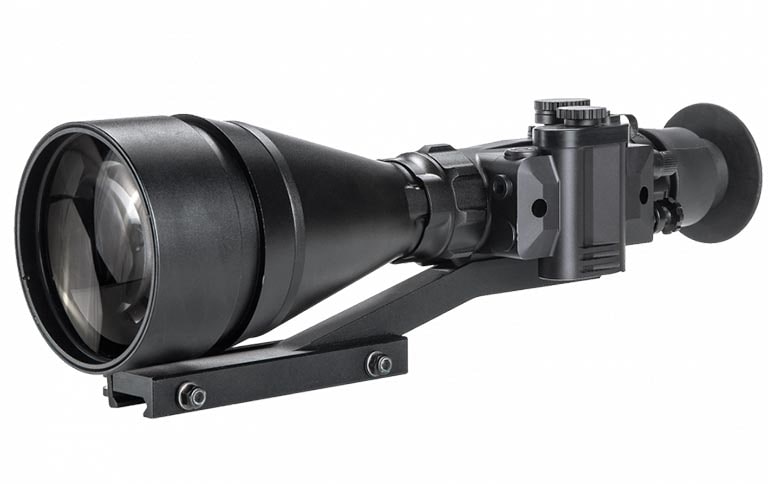 One of our favorites from the leading American night vision manufacturer AGM. Let us immediately voice its shortcomings: it is heavy. That's all.
On the other hand, its high weight is due to its packaging. The first thing you will appreciate will be the large size lens and excellent tube quality. A 3-pound weight won't seem like a problem anymore with this data. In addition, this device is equipped with a white phosphor screen. AGM does not choose a side in the eternal dispute between fans of green and white NV image. Therefore, both types of Wolverine Pro-6 models are on the market.
A full-fledged 3rd generation of the device will give you all the advantages of modern technologies. The reliability of the design and engineering solutions will provide high protection against weapon recoil. And don't forget about the great-styled reticle that has long been characteristic of AGM Global Visio products.
Choosing is always a daunting challenge, especially if you are looking for the perfect night vision scope. But if you spend enough time and effort, you will get emotions incomparable with anything. And we will try to make this task easier for you.